Domori Criollo Project: the 2019 Limited Edition
The Chuao, Porcelana and Guasare varieties will be the Ambassadors of Monovarietals Bars.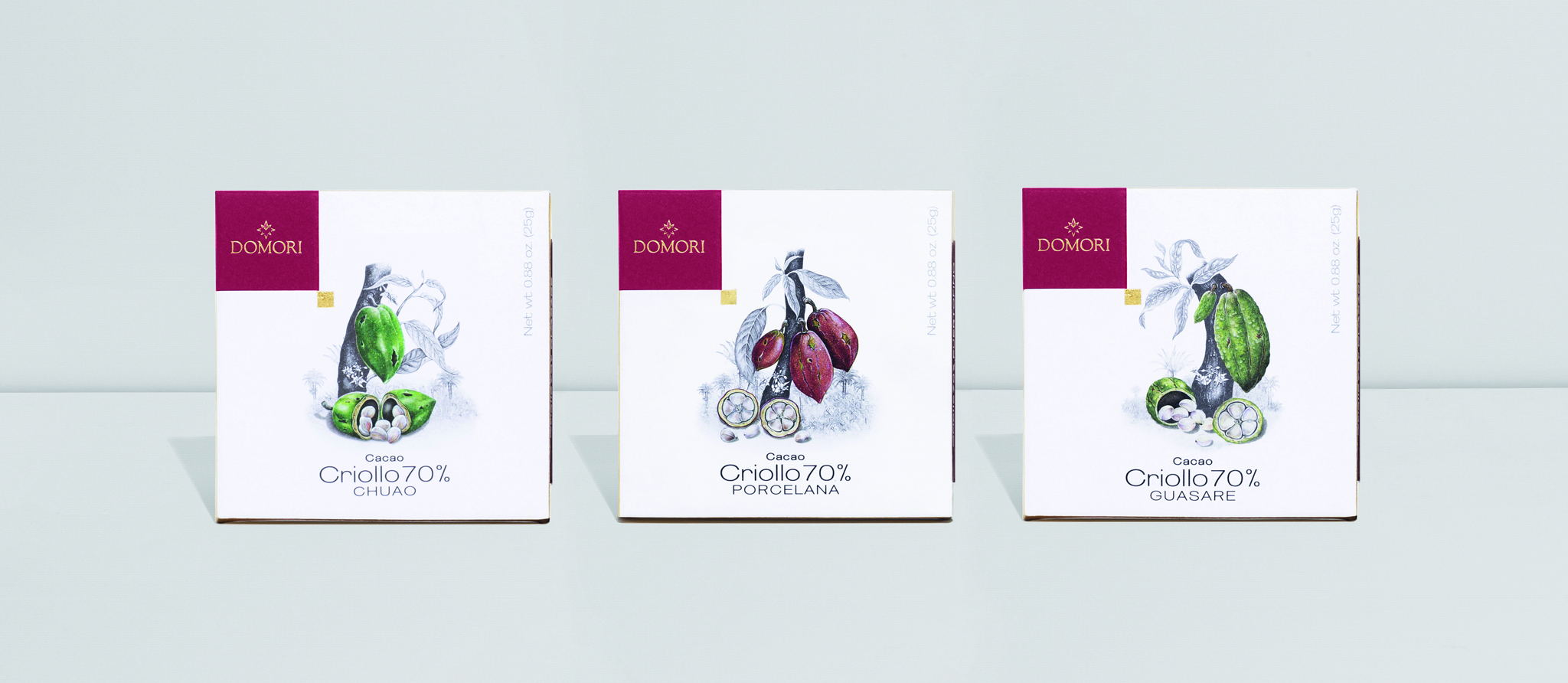 2019 marks a milestone for the Domori Criollo Project, that has been protecting and fostering the rarest and most precious and delicate cacao variety for the past 25 years: Criollo, in fact, accounts for just over 0,001% of the global production.
Since its foundation, Domori has worked relentlessly to recover and preserve the incredible biodiversity of Criollo, that counts more than 10 different cacao varieties. Credit for such a pivotal development has to be given to the partnership with the historical Venezuelan producer Hacienda San José, which is co-owned by Domori since 2001. With a total surface area of 320 hectares, 185 of which are cultivated with cacao grafts with a density of 1000 plants per hectare, the plantation today represents a world heritage of taste and biodiversity of more than 10 varieties of Criollo cacao.
In 2019 Domori's R&D department takes a further step forward thanks to the selection of the 3 varieties that will act as Brand Ambassadors of Domori's Criollo: the Guasare, Chuao and Porcelana varietals that will be the key assets of the 2019 Domori Limited Edition: a total of 27 thousands chocolate bars available. This choice represents the natural evolution of the quality and cacao culture developed by Domori.
Gianluca Franzoni, Founder and President of Domori, explains: "These three varietals are the most precious and ancient species among those protected within the Hacienda San Josè's genetic collection: hence the choice to value their purity. By every standard these three varietals are the most iconic, having a strong taste personality, fully satisfying, mirroring the uncompromising philosophy of our Brand".
For the time being, the Guasare, Chuao and Porcelana varietals are available for prompt delivery; nevertheless, as demand pressure is increasing both on the Retail and on the Professional side, starting from September they will be a Limited Edition available solely upon reservation. The other monovarietals, specifically the Puertofino, the Puertomar, the Canoabo and the Ocumare77, have been designated for the Blends production: Blend Criollo 80% and Blend Criollo 100%.
Andrea Macchione, CEO of Domori, further explains: "The 2019 Domori limited edition sprouts from our rigorous respect of quality standards. It is an unprecedented decision for Domori's management and it is the result of a remarkably positive market demand. Our goal is to meet this growing request, without betraying our quality mission and standards. The Chuao, Porcelana and Guasare varieties will be the Ambassadors of Monovarietals Bars, while the remaining varieties will be used for our Criollo 100% and 80% blends, and for the Retail, Professional and Gelato Libre production lines.
We are actively reorganizing our supply line focusing on quality and product diversification. Domori's Criollo is getting more and more strict and contemporary".